&nbsp
Mara Jaffray is a character from House Of Anubis. She is played by Tasie Dhanraj.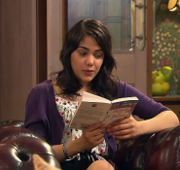 Mara And Mick And Jerome!
Edit
Mara Had a crush on mick, until him and Amber broke up. After that, Mick started to develop a crush on Mara and they become a couple. In season 2, They break up because Mick moves to Australia.Jerome and Mara end up dating as Jerome asks Mara then they.... KISS!!! OMG!
Ad blocker interference detected!
Wikia is a free-to-use site that makes money from advertising. We have a modified experience for viewers using ad blockers

Wikia is not accessible if you've made further modifications. Remove the custom ad blocker rule(s) and the page will load as expected.